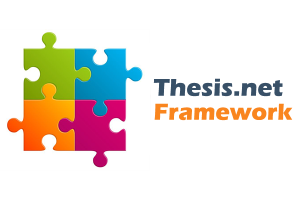 Irreplaceable application development tool
Presenting Thesis.net Framework as an exemplary software platform in several Greek Universities (National Technical University of Athens, University of Piraeus, Athens University of Economics and Business) and in large public and private enterprises (OSY, BMW Financial Services, Piraeus Bank, Eurobank, Vodafone, Victus Networks, Imerys, Titan Cement, Lafarge Heracles, Hospice etc.) is a further proof of the technological superiority.
CGSoft, having 20 years' experience in the design, implementation and support of business software can cover through Thesis.net Framework (the application development platform) any customer's needs, regardless of its size and Business sector.
Thesis.net Framework features, in addition to a modern and user-friendly interface, embedded connectors to communicate with the most known IP PBXs, with unlimited customization and expansion options.
Thesis.net Framework leverages all the latest innovations of Microsoft's .net environment. The innovative Thesis.net application development environment combines Microsoft's latest technology with a powerful graphical interface. This unique combination ensures the design, production and implementation of additional programs (modules) and the new functionality of the system.
Thesis.net Framework fully exploits all the functionality offered by Microsoft SQL Server. Unlike the majority of applications on the market, Thesis.net utilizes, to the greatest extent, the capabilities of Microsoft SQL Server, by integrating all the business logic in the Server (application layer).The database part, apart from the DB objects (tables, views, procedures, functions, triggers, etc.) embeds, free in source code, open to IT professionals all the development framework with complete feedback, for further customization. Thesis.net Framework main architecture is client-server.
Thesis.net Framework incorporates a rich set of graphical tools covering effectively BI and Dashboard needs. The application development framework is ideal for the rapid development of new modules, of new applications and covering specific needs of vertical markets.
Thesis.net Framework successfully supports all the personalization requests (built in form designers, report designers, document management, mail merge support, auditing, menus, etc.) reducing the change request implementation time and effort and simultaneously guarantees uniform, high quality UI.
Thesis.net Framework is the ultimate development and applications configuration platform. Its coverage, depth and flexibility make it a pioneer in the European market. It guarantees that all the additional programs created, automatically inherit all its innovative features.
Technology
Thesis.net Framework (application development platform) leverages directly and very effectively the latest Microsoft technologies. User Interaction is fully compatible with Windows, and MS Office. It can communicate bi-directionally with Microsoft Office automation programs and most known PBX. The embedded Thesis.net Application Builder program is an excellent tool for the design, development and delivery of additional applications; management of change requests, improvements, etc., providing the required flexibility to cover specific vertical market needs and customized solutions
Thesis.net Technologies
Thesis.net is entirely based on Microsoft's latest technologies. The development environment is Microsoft Visual Studio, (C #), with extended support of .Net Framework. It fully utilizes Microsoft Windows and SQL Servers. The User experience (UI) is fully compatible with Windows & MS Office (ribbons, application button, contextual tabs, galleries, screen tips, quick access toolbars, etc.) Thesis.net interacts with Microsoft Office automation applications. All Thesis.net products have been tested and are fully compatible with the Microsoft SQL Server and Windows 7/8/8.1/10.