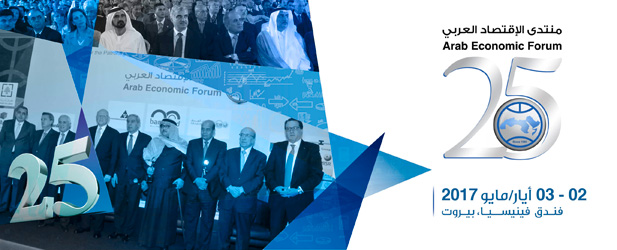 CGSoft participation in the 25th Arab Economic Forum
Just a few weeks after its successful participation in CeBIT, CGSoft confirms once again its outward-looking strategic planning and international presence, with its presence in the 25th Arab Economic Forum, next week ( May 2-3, 2017), in Beirut –the only Greek participation for 2017, but also the planned development of a network for the promotion of its state of the art, specialized business software products (Property & Real Estate Management, Collection etc.) in MENA and in the respective market sectors (banking, telecommunications, public and municipalities, property management companies, technical /construction groups, real estate funds etc.).
The Arab Economic Forum is organized by Al-Iktissad Wal-Aamal group, under the patronage of the President of the Council of Ministers in Lebanon, H.E. Mr. Saad Al Hariri, in collaboration with the Central Bank of Lebanon, the Association of Banks in Lebanon and the International Finance Corporation (IFC) a member of the World Bank Group. For its silver jubilee, the forum is expected to attract a large number of senior officials; corporate banking and investments leaders and experts from several Arab and foreign countries. The Forum is particularly important to be held in light of the major challenges facing the region and its economies, due to the political climate and security instability in some of the countries, the decline in oil prices, the impact of economic growth, the investment climate and the decline in employment opportunities.
The 25th Arab Economic Forum will tackle the following topics:
Post-war economy and austerity
Economic visions and the challenges of reform and investment
Privatization, partnership and the role of private investment
Attracting funds: The role of banks and capital markets
More info -we hope equally important and promising- as soon as we get back.