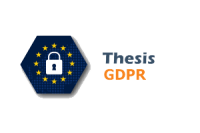 Conform timely and secure compliance with the requirements of the European General Data Protection Regulation (GDPR 2016/679).
CGSoft, utilizing the best available technologies in the market, has designed, implemented and offers to its customers and partners the 'Thesis GDPR' product.
Thesis GDPR product can be installed in every member of CGSoft's Thesis family of products, including, Thesis ERP, CRM, Winery, Property & Real Estate Mgmt., Collection, and other similar products provided by our partners, based on Thesis technology (version 6.7 or later) to fully support the requirements of the Regulation.
Thesis GDPR to be operational requires Microsoft SQL Server 2016/2017 & Windows Clients: (.NET 4.6.2, Windows 7 SP1, Windows 8.1, and Windows 10).
Its installation and operation does not affect the functionality of Thesis programs (transparent operation) and requires implementation services in cooperation with the DPO (Data Protection Officer) of the company.
For additional information, please follow this link or contact us (info@cgsoft.gr, +30 210 7488500).